Steven Courtney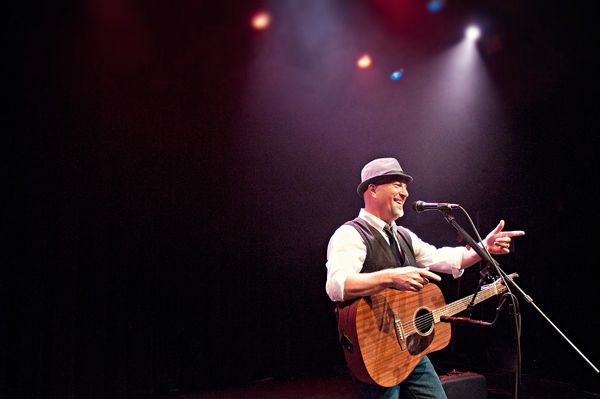 Steven Courtney is a performing songwriter who has experienced top notch success. In a span of this career, Steven has performed over 5,100 concerts to date, recorded 30 full-length albums, received 7 Children's Music Web Awards and the Arpeggio Award for "Outstanding Work with Children" through the Arts, as well as produce four concert-length performance videos and an award winning Children's TV series.
Few artists are as committed to expanding the boundaries of Children's Music and Family Entertainment as Steven Courtney. Courtney's songs inspire imagination and positive social behavior with a superabundance of creativity added. Trying to slot his music into a specific genre, fails to capture the tapestry of musical forms from which he draws.
"I strive to write songs that kids and parents can be entertained by, while they are together, enjoying each other's company," says the Pennsylvania-based songwriter. "It's magnificent to really enjoy music with your child and not have to pretend! I've always appreciated a wide range of musical styles and I think that music for the whole family can be as good as any mainstream style of music. You'd be surprised how much a parent and child have in common, musically, if given the opportunity to enjoy it together."
Somewhere, today, Steven is probably performing a show, encouraging children and families to work hard at loving and caring for each other.
Educators admire the delivery… Parents love the message… Kids adore the music and fun spirit!
Steven Courtney + the Suitcase Musicians perform Great Day To Be Alive in concert
[http://youtu.be/rWSTTC2H8CY]
Steven Courtney + the Suitcase Musicians perform Big Old Jeb in concert
[http://youtu.be/xUgbol-WD0k]
Steven Courtney + the Suitcase Musicians perform Detective Joe in concert
[http://youtu.be/QgsN6mvqnbQ]
Life In Song. After Song. After Song…
BY ANDREW LINKER
To take a look around the barn-turned-recording studio is to get a glimpse into the influences that have helped shape Steven Courtney.
On the wall by the door hang albums of Bob Dylan, Elton John and The Band.
Another wall carries an iconic Route 66 sign, along with license plates from Ohio to Texas. A head to a marching drum from Lancaster's McCaskey High adorns yet another wall in the studio behind Courtney's home in Manheim, Pa. An 8-mm camera takes up part of one table, while one of those oversized Groucho Marx-like "This is Your Life" microphones sits nearby. Always close by is one of his 40 guitars, probably a Martin.
They all represent the eclectic within Courtney; each a memento of a music career now in its fourth decade.
The stories of that career, though, are not on the walls. Instead, they are inside Courtney's furtive imagination, a place where the make-believe pirates and misbehaving monkeys of his youth come to life in song.
After song.
After song.
Those songs – whether they be "Steven the Pirate" or about any one of 42 monkeys – have allowed Courtney to entertain countless kids, and now multiple generations, since 1983.
Courtney's resume includes close to 30 albums and CDs – another 10, he said, are "still locked up in the vault." He has headlined more than 5,100 concerts, most of which have taken place within a 200-mile radius of the Lancaster County home he shares with his wife, Joyce, and a free-range, egg-a-day chicken named Lois.
Courtney has little interest in venturing farther than south central Pennsylvania. Small time is his big time, although the opportunities have been there for Courtney. And while being an independent artist may be financially poorer, it allows Courtney to be professionally freer.
"Early on, before the term 'indie artist' was even used, I was an indie artist,'' Courtney says. "I could put out albums whenever I want. I could record whatever I want. I have complete control."
Independence has allowed Courtney to perform before smaller crowds – "I'd rather have 200 people than 2,000" – and to go wherever his tired 1997 Plymouth Voyager, the one with 230,000 miles, will take him.
"As an independent artist, there are things you can do to go more national," Courtney says, "but it's all based around money.
"I've spent hundreds of thousands of dollars promoting my career just in a 200-mile radius. It's not cheap to establish that kind of business. Once you go national, or even regional, those numbers just keep going up. And the risk keeps going up, too. The higher up you go on the pyramid, the less space there is.
"(Going national) is just that much more expensive, that much more competitive, that much more cutthroat. I love the old Hunter Thompson quote that says "The music business is a cruel and shallow money trench, a long plastic hallway where thieves and pimps run free, and good men die like dogs. There's also a negative side."
Creativity, not negativity, is what drives Courtney; it always has, even when he was performing for pennies and working at odd jobs to pay the bills.
Long before the kid-friendly, straight-from-the-imagination "Steven the Pirate" became his signature song, Courtney's real life was filled with toil rather than tunes.
Back then, he was Steven the short-order cook, Steven the concrete mason and Steven the carpenter.
Then came a few gigs, followed by a few more to support his wife and their two now-grown children, daughter Brooke and son Taylor. Courtney eventually starred in a local kid-oriented television show and started two labels of his own – Radio Vibe Records and Sun Hill Records.
As he continues to perform before the children of the children he first entertained when George Bush – the father, not the son – was president, Courtney finds his work to be validated, not outdated.
"Truly, it is validation,'' Courtney says. "I am really blessed to be able to sustain a livelihood and career. I fly below the radar screen, and I choose to remain there. There are events I could go to that would give me a higher profile, but my wife and I wanted to stay here and try to forge a career where we live.
"That was our goal, and it's worked."
On a given day, Courtney and his equally talented ( band "the Suitcase Musicians" – Mindy Lapp, Bobby Wehner, Frank Portaro, Judy Glanc, Fred McNaughton and Doug Walton)– can be found performing at an inner-city street fair in the morning before traveling an hour for a benefit show in the afternoon.
On a given night – sometimes the same night as the given day – Courtney may be playing in a neighborhood pub before the parents of the kids he entertained earlier in the day. A single gig's play list, depending on the venue, can range from whimsical to spiritual to traditional.
His schedule, whether with the band or going solo, can approach 200 shows each year.
"That's a lot of packing and unpacking," Courtney says with a laugh, "and setting up and tearing it down, whipping them into a frenzy and getting out of town with a paycheck."
And while youthful ditties like "Steven the Pirate" and "42 Monkeys" pay the household bills and buy feed for Lois the family chicken, Courtney says his preference is to play the acoustic-based "roots" music he first heard as a child.
"There's a difference between preference and profession," Courtney says.
"From a professional standpoint, I try to respect what the audience remembers and is familiar with. At the same time, I'm always playing my other hand and going, 'Here's a genre of music that isn't mainstream' and trying to see what happens. I'll put a song like 'Mama's Homemade Soup' out there and play that for three or four years. Then, when I get to the point where I show up at a school where I sang at two years ago, I sing it again. And if they go, 'Yeah, that one' – like they do with 'Steven the Pirate' – that's when you know what you're doing is working."
Now, Courtney says he looks forward to playing for the grandchildren of the children he first entertained and hearing blue-haired ladies say "I heard you when …" – even if that means playing another 25 years until he is well into his 70s.
"To me, that would be huge," Courtney says. "It would be the ultimate seal of longevity. If I'm still happy playing my guitar and singing songs about monkeys and pirates at that age, and people want to hear it, well, you can't for me define success any better than that."
Andrew Linker is a freelance writer who lives in Palmyra with his wife, Michelle, and their daughter, Annie. He can be reached at moc.loa|8yaleDniaR#moc.loa|8yaleDniaR.
Steven Courtney + the Suitcase Musicians

Booking: Steven Courtney Entertainment
http://stevencourtney.com/booking/
FAQ
Q: Is being a performing musician, Steven's full time job?
A: Yes, since 1991 Steven has been performing, recording, producing and writing music (full time) across the United States. Steven performs both solo concerts and high-energy shows with his talented band the Suitcase Musicians. Steven performed his 5,000th show on April 9, 2011.
Q: How much will it cost to have Steven perform for our event?
A: Fee structures are determined by the location of the event and the number of performances needed. The more performances that are grouped together, the more cost effective it is. Even different schools, within the same district, can work together to achieve the best possible rate.
Q: Our school (K-5th) normally books two assemblies for our student body to accommodate the AM and PM kindergarten. Can Steven perform two shows on the same day?
A: Absolutely and the concert rate for the second show will reflect a significant discount. There are many different combinations that work well so that all grades are included.
Q: How long is Steven's presentation?
A: Steven can be flexible to your needs but the preferred length is about 50 minutes for a school assembly and 60 to 75 minutes for a feature concert.
Q: I've heard that Steven performs in churches too. How does that work?
A: Steven's school assemblies and general public concerts, do not contain a religious message.
But, he does perform family concert events for churches. They are two different shows for two separate audiences.
Q: What should I do next, if I'd like to book an event with Steven or Steven + The Suitcase Musicians!?
A: Fill out the contact form on his website and provide the basic information about your event. Within about 48 hours you will receive pricing and availability about your inquiry.
Q: Does Steven and his band perform for private events … say a birthday party?
Sometimes. Last year Steven was able to perform for a handful of private events that were booked around openings in his concert and recording schedule. But school assemblies, libraries, churches and larger public events are put on his calendar first.
page revision: 19, last edited: 18 Jan 2012 21:38